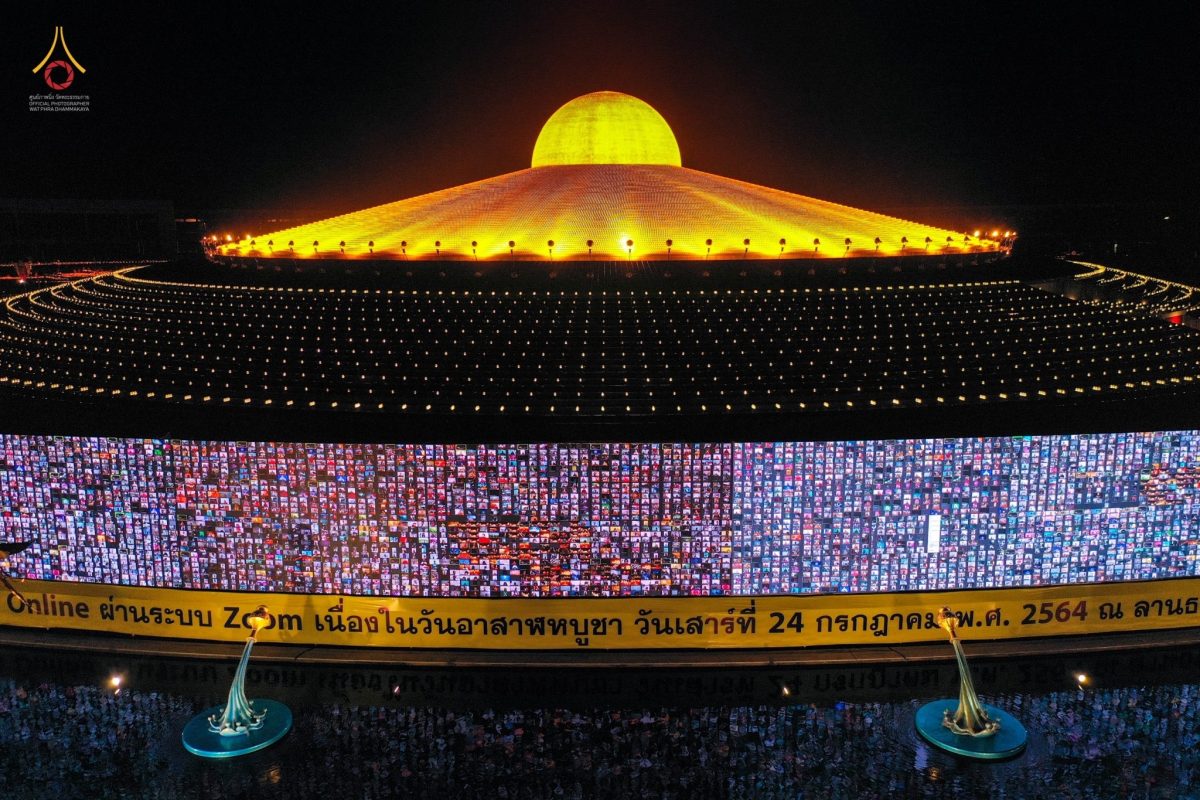 Wat Phra Dhammakaya hosts the online ceremony of Asalha Puja Day by inviting the monastic community throughout the world to take part in chanting and an online candle lighting to safeguard the world from COVID-19, provides support of 528 beds and 27,370 boxes of ready to eat food for those, affected by COVID-19 and offers the necessities to 56,000 monks.
Venerable Phrakrusamu Sanitwong Wuttiwangso, director of the Communication Department, stated that this year Wat Phra Dhammakaya organized the Asalha Puja ceremony completely online on Saturday, 24 July 2021–a full moon day of the 8th lunar month. The morning session started with a meditation session and food offering ceremony. The afternoon included the sermon, mass meditation, and a speech from the presiding monk. The evening included a spectacular candle lighting ceremony, chanting, and the spread of loving kindness by the global monastic community and lay people from around the world to safeguard everyone from COVID-19. The event culminated with the completion of 3,555,555,555 rounds of Dhammacakka chanted. Throughout this auspicious event, the monastic community and people participated in the activities via ZOOM from many countries around the world, like U.S.A., England, Germany, Austria, Sweden, France, Switzerland, Australia, New Zealand, China, Japan, Taiwan, South Korea, Mongolia, Malaysia, India, Bangladesh, Sri Lanka, Myanmar etc.
"Asalha Puja Day is one of the most significant days for Buddhists. It is the day that marks the important events including the first sermon delivered by the Buddha called the Dhammacakkappavatta Sutta after his enlightenment. On that day, the ascetic Kondanna also attained the fruit of Sotapanna, the first stage of holiness, thus becoming the first disciple to be ordained as a monk by the Buddha and completing the Triple Gem: the Buddha, the Dhamma and the Sangha. In commemoration of the event, massive candles were lighted in the images of the Buddha, the turning of the Dhamma wheel that signified the announcement of Buddhism and a monk to honor the first monk in Buddhism to pay homage to the Buddha, spread the loving kindness to everyone throughout the world to live in harmony and be safe from COVID-19 and dedicate all merit to 4 million people throughout the world (including 3,800 Thais) who passed away from COVID-19. During the pandemic of COVID-19, the temple offered to Pathum Thani's field hospitals and the victims of COVID-19, 528 knockdown beds, 27,370 boxes of freshly cooked food and more than 200,000 items of consumer goods in relief supply bags and medical products & equipment. Moreover, the temple offered online the necessities to 56,000 monks and all subsidies that it had provided were worth 32.3 million baht." said Venerable Phrakrusamu Sanitwong Wuttiwangso.