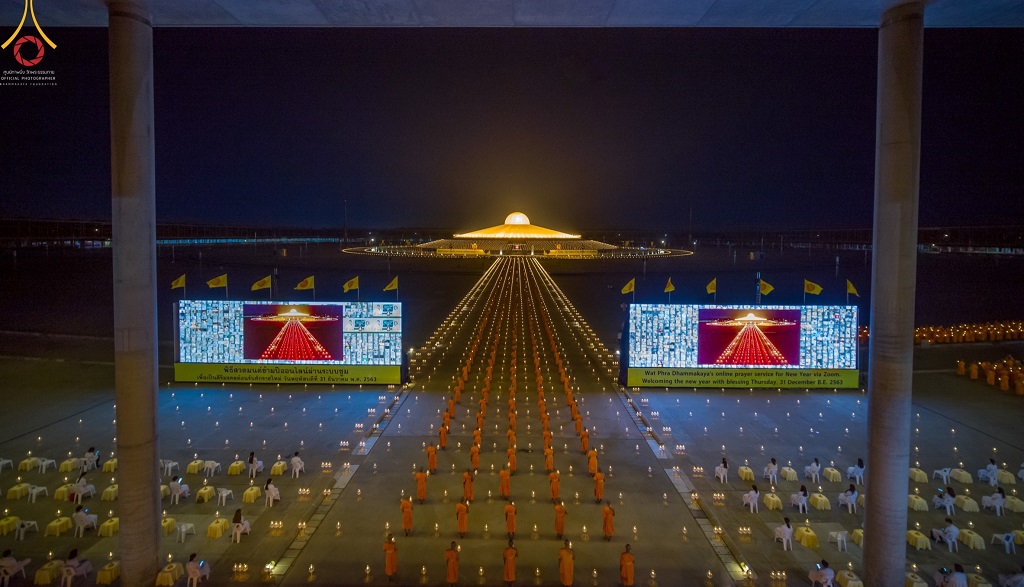 On 31 December 2020, Venerable Bhavanadhamvithes, assistant abbot of the Dhammakaya Temple, was the presiding monk for the online New Year's Eve Chanting event broadcasted live around the world via Zoom as an auspicious beginning to 2021 at the Grand Meditation Stadium of the Maha Dhammakaya Cetiya. The ceremony was participated remotely by more than 15,000 Buddhists from various countries and numerous Buddhist organizations' leaders that comprised venerable monks and lay Buddhists.
At 2230 hrs., Ven. Bhavanadhamvithes lighted the main lantern in homage to the Triple Gem and led the congregation of monks and laypeople in circumambulating the Maha Dhammakaya Cetiya while chanting the Dhammacakkappavattana Sutta. The midnight countdown began at 2355 hrs. with the monastic community chanting the chayandho blessing and lay Buddhists around the world uttering the word "sadhu" in unison. This was followed by the celebration for completing 3,030,002,564 rounds of Dhammacakka recited. To mark the achievement and to welcome the new year 2021, the twin victory bells were rung 64 times. Pictures of the participants taking part in the online event from throughout the world were brilliantly displayed on the giant LED screens at the temple. The next Dhammacakka recitation goal is 3,088,000,112 rounds and will be celebrated on 19 January 2021 in honor of the 112th Birth Anniversary of Master Nun Chand Khonnokyoong– founder of the Dhammakaya Temple.
The New Year's Eve overnight chanting was the first time that the Dhammakaya Temple had incorporated an online element of Zoom to their ceremony. The event was well received and maintained rigorous compliance with the protective measures against Covid-19.