On Sunday, January 8th, 2023, 11th Dhammayatra Pilgrimage's Walk from Wat Songkanong, Nakon Pathom Province to Phramongkolthepmuni Memorial Hall (Bang Nang Taan Canal) – The Initial Vow for Lifelong Ordination Site.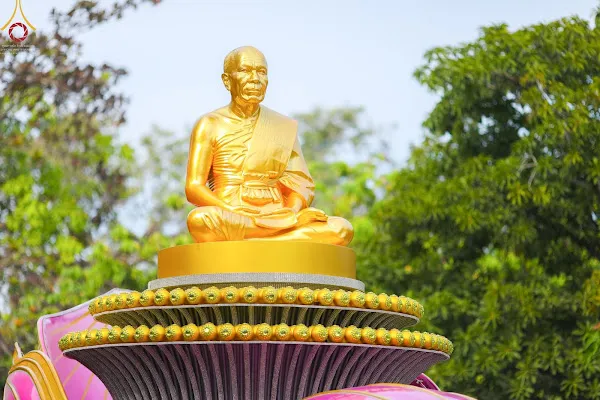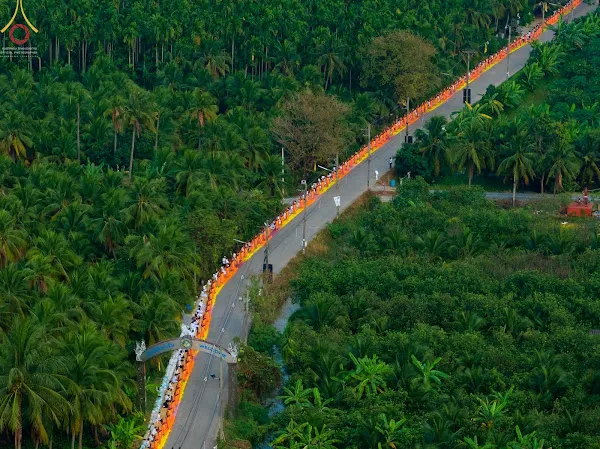 Dhammayatra monks started the pilgrimage's walk from Wat Songkanong, Nakon Pathom Province at 3 pm. to Phramongkolthepmuni Memorial Hall (Bang Nang Taan Canal) where was the initial vow for lifelong ordination site. At the age of 19 years old, in the Buddhist Era year 2446 (Christian Era Year 1930).On the sail of the boat while doing trading business, due to the feeling of the impermanence of the world through experiencing the encounter in a life endanger event, and understand the unreal of real life. Then, the mind began to feel the dislike in the mundane. He sincerely wish for:" Please don't let me dead before I could ordain as a monk, and wish that if I could ordain as monk, I would remain as a monk for life. And will never unfrock." Thus, it became the important path.
Many people acted of paving the path with flowers and with their great faith in the Buddha also occurred during the time of the Buddha as recorded in the Tipitaka. One specific incident took place during a time when Vaishali city was experiencing great calamity. The people suffered severely and the death toll was exceptionally high. During that time, the Buddha was invited to visit Vaishali. As He and the 500 monks departed Rajgir, King Bimbisara prepared the path of about 80 kilometers with flags and banners, flowers of five different colors, tiered parasols, and other flowers. Even the residents came out to clean the road, decorate it with delicate garlands, and line it with flower petals of ten colors to welcome the Buddha.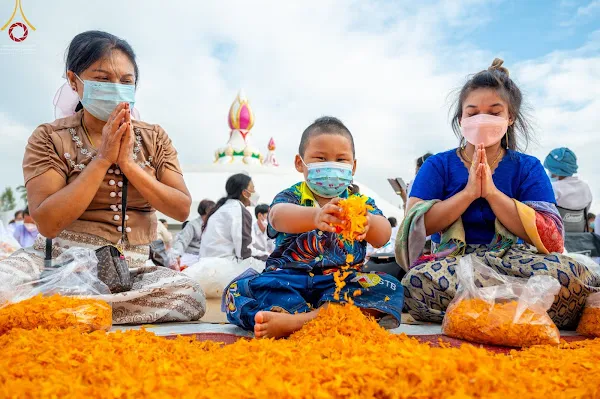 In Buddha Era, the Patsari city due to serious natural disasters, causes many of citizens suffer and death. Therefore, the people kneel and plead Lord Buddha and his 500 monk disciples for help with kindness. Their king Bimbisara have install 5 different colors of double layers flag along the path of arrival for the Sangha, and using fresh flowers layout for "5 Yojana" (approx. 555km).And the people in Patsari city also clean up the streets, and decorate with delicate flowers and sprinkling flower petals with 10 different colors. Hopefully these will clear all disasters, the diseases of all citizens will be recovered, drive away all evils, the Buddhas and all celestial beings will bless the citizens with auspicious in their life.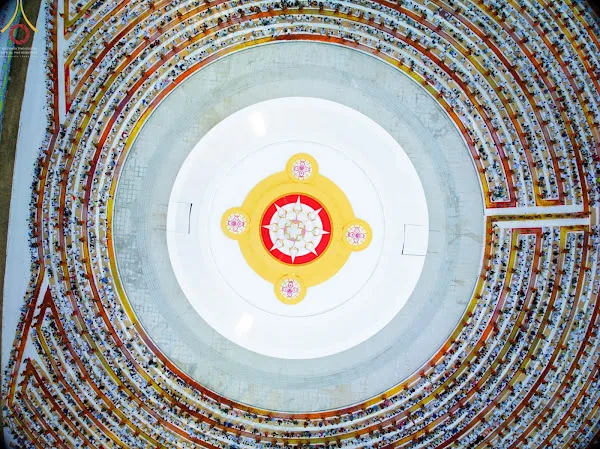 Photo by: Blogspot https://photoofdays.blogspot.com/2023/01/08-02.html