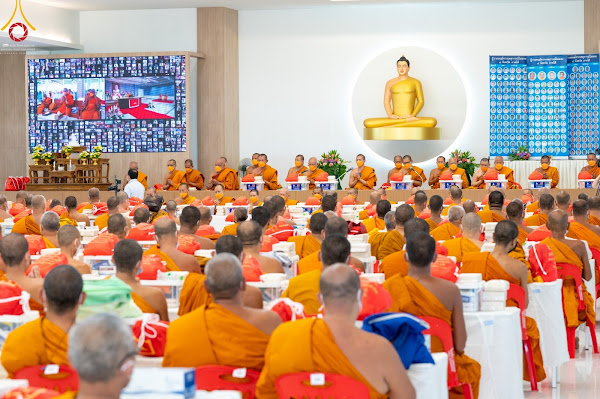 On 28 May 2022, Most Ven. Phrabhavanadhamvithes, representative from Wat Phra Dhammakaya and its devotees throughout the world, together with the monastic community of Songkhla, Pattani, Yala and Narathivas,  government and private sectors, and local residents, arranged the158th basic necessities offering ceremony to the 323 temples in the four southern provinces (Pattani, Yala, Narathivas, and the four districts of Songkla) and the 123rd scholarship presentation to teachers in the South at the Meditation Center of Songkhla via Zoom. The merit from this event was dedicated to the victims of the current state of chaos.
The ceremony was presided by Most Ven. Phrarajworamethee, Abbot of Wat Khoksamarnkun (a royal temple) and the Ecclesiastical  Governor of Songkla Province  – acting as the chairman for the monastic community, and Ms. Suphaporn Ketsuriyong (Director of the Office of Buddhism – Songkhla Province) as the chairman for the lay people.
This marked the 18th consecutive year and the 158th time this event has been organized, with over 303 million baht raised. In addition to this, there was the 123rd presentation of 80 scholarship funds to the teachers in the South. This event has been arranged for the past 15 consecutive years and the total of over 39,0000 scholarships, valued at over 80 million baht, have been awarded to these dedicated teachers.