7th International Morality Training Program
12-20 August 2023, at the International Buddhist Monk Training Center, Prachin Buri Province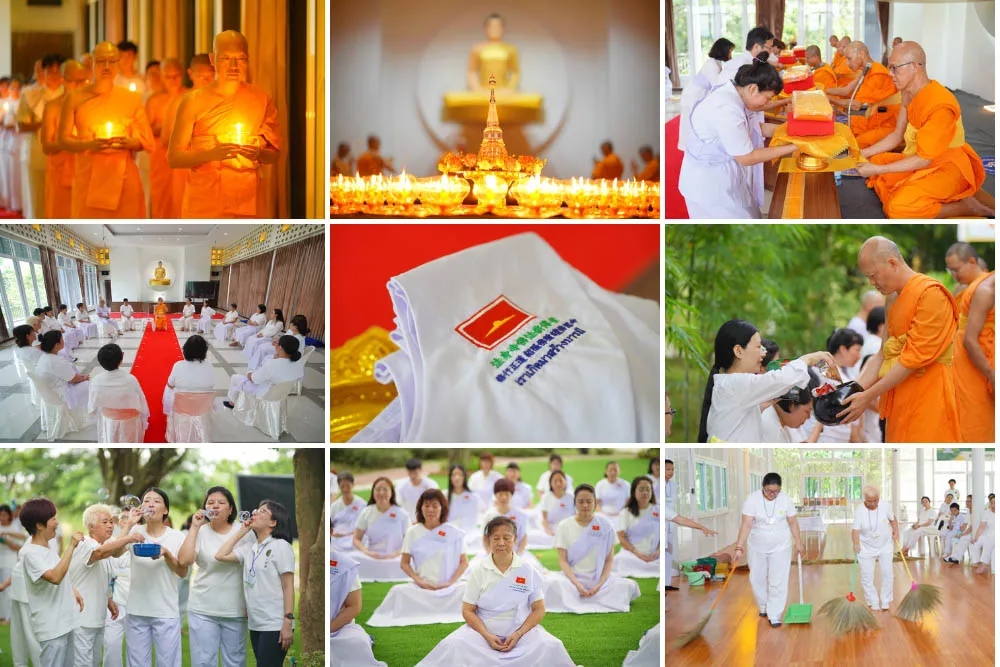 36 participants from various countries and regions including China, Singapore, Malaysia, Taiwan, Hong Kong attended the program, which aimed to cultivate oneself through learning meditation and Universal Goodness*.
On 12 August 2023, participants from different parts of the world arrived at the International Buddhist Monk Training Center at Prachinburi Province. They completed the registration and prepared themselves for the upcoming program.
On the next day, 13 August 2023, everyone undertook eight precepts for better purity of body, speech and mind. The participants then began to learn about the basic principles of the five aspects of Universal Goodness (UG-5). These principles would then be put into practice every day throughout the program, in turn to facilitate the participants to establish habits of cleanliness and orderliness, as well as to live harmony together.
On the 3rd day of the program, the participants performed alms-offering to monks in the morning. Everyone had the firsthand experience of morning alms in the Thai culture. In the morning, the tutor monk began to give lectures on the correct methodology to practice meditation. Participants learnt the importance and practical knowledge of maintaining cleanness of both the outside (i.e. the surroundings, via practicing cleanliness) and the inside (i.e. our mind, via practicing meditation). In the afternoon, under the lead of yoga teachers, participants were taught to stretch their bodies. It was highly recommended by participants as they found it to be very conducive to their meditation practice. The tutors also kindly provided suggestions and guidance to the obstacles participants encountered in practicing meditation.
On 16-17 August 2023, participants followed the routines to undergo different types of training, including chanting, listening to Dhamma and practising meditation. Participants gradually got familiar with these activities and started to gain deeper insights into the them.
On 18 August 2023, a special candle lighting ceremony to worship the Lord Buddha was held. Everyone felt amused and delighted with the sacredness and beauty of the ceremony.
In the afternoon of 19 August 2023, there was a ceremony to dedicate merit to the deceased relatives and to offer funds for building "personal" Buddha images. Through the ceremony, every participant gained an understanding about practice of generosity and merit dedication. On the same evening, there was a ceremony to ask for forgiveness from the tutors and to express gratitude for their teachings throughout the program.
After that, all enjoyed a video on collections of happy moments in the program. The day was nicely wrapped up with a mini game to pass on the positive energy to each other.
On 20 August 2023, the participants set out to Wat Thua Thong for fish releasing, followed by a short sightseeing tour at Wat Phra Dhammakaya, the last stop on the journey in Thailand. It was believed that for many participants, they would be starting a new chapter in life — leading a better life with more inner peace and happiness.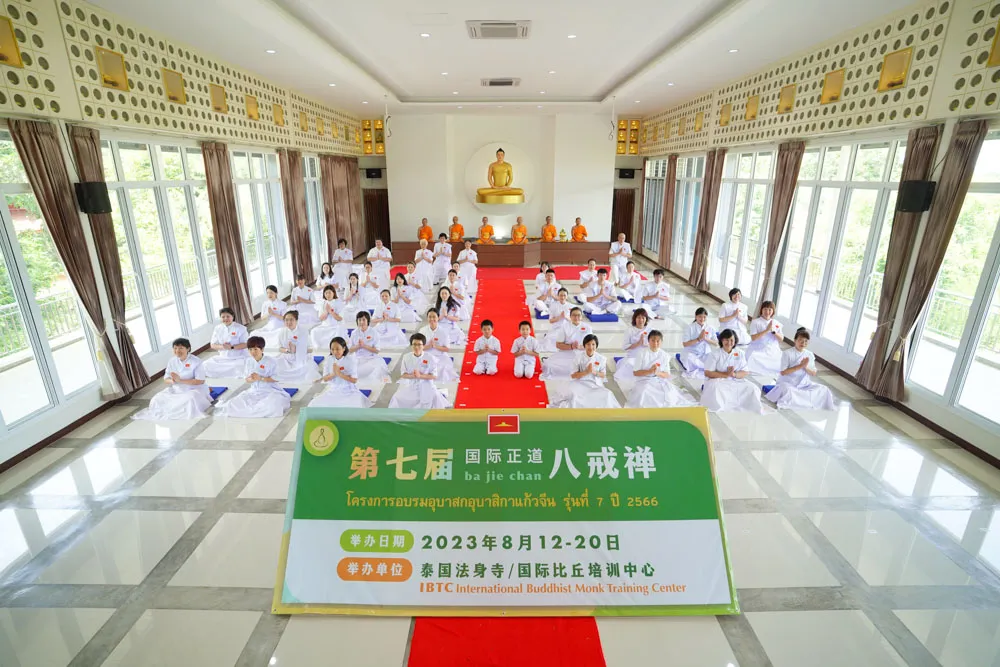 *Universal Goodness is the basic guide for proper physical, verbal and mental conduct. Whoever practices it can expect to meet with happiness and prosperity regardless of his gender, age, race or creed. The reason is that the practice of Universal Goodness keeps the mind of its practitioner bright and clear: the state of mind which is conducive to happiness. To realize its full benefit, Universal Goodness must be earnestly and regularly practiced until it becomes a habit, a virtue and a moral code to live by. Universal Goodness comprises five aspects as follows:
1. Cleanliness
2. Orderliness
3. Politeness
4. Punctuality
5. Concentration