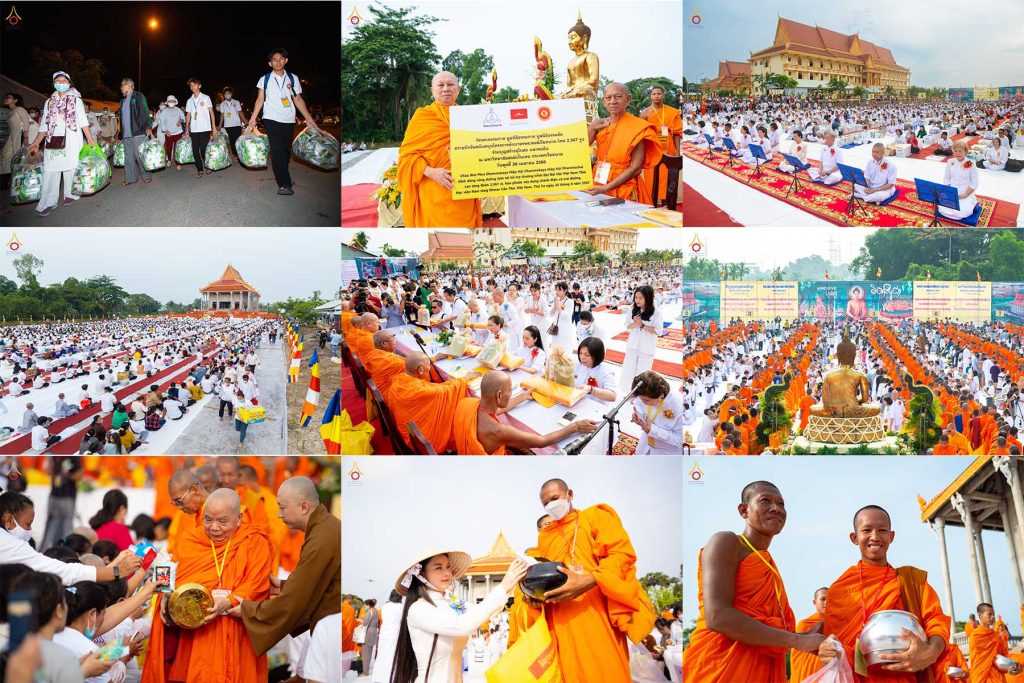 On 26 April 2023, the monastic communities of Vietnam and Wat Phra Dhammakaya made history in organizing Vietnam's biggest almsgiving ceremony for international monks from 9 countries.
In Can Tho City of Vietnam, 3,000 monks from 400 temples in the region of Mekong Delta (13 southern provinces of Vietnam) together with the monastic communities from 9 countries (Thailand, Cambodia, Myanmar, Lao, Nepal, Bangladesh, Sri Lanka, India and Indonesia) received alms from over 10,000 lay people in the almsgiving ceremony, presided by Venerable Dao Nhu, Vice President of the Executive Council of the Vietnam Buddhist Sangha (VBS), Ecclesiastical Chief of Can Tho City and Chancellor of the Khmer Theravada Buddhist Academy in Can Tho City.
"This almsgiving ceremony for 3,000 monks is the biggest Buddhism promotion activity in the history of Vietnam in order to revive Buddhism, to tighten the relation of international Theravada Sangha and to exchange the learning process to propagate Buddhism under the collaboration of Vietnam's Theravada Sangha, Wat Phra Dhammakaya and Dhammakaya Foundation. This almsgiving is just the beginning step for the further coordination in Buddhism propagation.",said Venerable Prakru Siddhirattanavides (Jarin Ratanavanno), Abbot of Wat Bhavana Seoul, Assistant Abbot of Wat Phra Dhammakaya and the head of the almsgiving organizing task force.