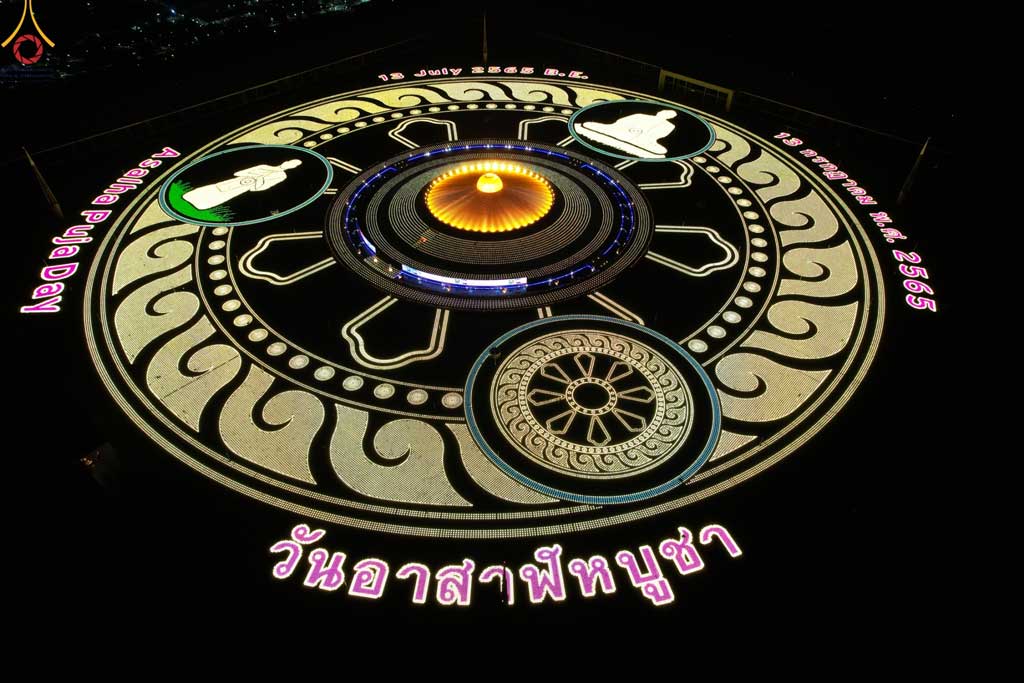 Wat Phra Dhammakaya organizes Asalha Puja Day by inviting one million monks to chant, make a resolution, spread loving kindness for everyone around the world to be safeguarded from COVID-19, light candles, and meditate in homage to the Buddha.
Venerable Phrakrusamu Sanitwong Wuttiwangso, Director of Communication Department, mentioned on 13 July 2022 that this year's Asalha Puja Day fell on the full moon day of the eighth lunar month. Wat Phra Dhammakaya hosted a virtual Asalha Puja ceremony from the Dhammakaya Assembly Hall, beginning with a meditation session at 9.30 a.m. and ending with the offering of monk robes, lantern and food. The afternoon session began at 1.30 p.m. with a sermon, meditation, and speech from the presiding monk.
At 7.00 p.m., the ceremony started with Asalha candle lighting in homage to the Buddha. This was followed by a million monks chanting via Zoom and everyone took part in making a resolution and spreading loving kindness for all around the world to be safeguarded from all diseases. At the end, the Sangha and lay community celebrated the successful completion of 4,555,555,555 rounds of Dhammacakka chanted and paid homage to the Maha Dhammkaya Cetiya and the Great Masters. This Asalha Puja event was organized in strict accordance with the Ministry of Public Health's COVID Free Setting guidelines. The lay people from around the world can join any virtual ceremony at www.gbnus.com or from Zoom at www.zoom072.com.
"Asalha Puja Day is an important day in Buddhism because several significant events occurred on that day: (1) the Buddha delivered his first sermon known as the Dhammacakka Sutta; (2) Añña Koṇḍañña who attained the first stage of enlightenment, Sotapanna, became the first disciple of Buddhism; (3) the Triple Gem: Buddha, Dhamma, and Sangha, was established. For these reasons, brilliant images of the Buddha, the Dhammacakka (Wheel of Dhamma) and Sangha will be created by using LED candles to commemorate the day when Buddhism was established. Wat Phra Dhammakaya would like to invite everyone to come and meditate in honor to the Buddha on Asalha Puja Day and the Rains Retreat. Everyone is invited to submit his/her photo in a meditation pose to break the Guinness World Records for 1 million meditation photos from now until 6 August 2022 at http://meditationphoto.com or via LINE OPEN CHAT at https://bit.ly/1milliongwr.", said Venerable Phrakrusamu Sanitwong Wuttiwangso.