"Stopping is the key to success"
When Sodh was twenty-two years old, he was ordained at Wat Songpinong in his hometown and was given the Pāli language monastic name Candasaro. Phra (phra meaning 'monk, venerable') Candasaro studied both under masters of the oral meditation tradition as well as experts in scriptural analysis, which was uncommon during that period. In his autobiographical notes, he wrote that he practiced meditation every day, from the first day following his ordination.
Although Phra Candasaro had studied with many masters, and had mastered many important Pali texts, he was not satisfied. In the eleventh rains retreat (vassa) after his ordination, in 2459 B.E.(1916), he stayed at Wat Bote-bon at Bangkuvieng, Nonthaburi Province. Wat Bote-bon was the temple where he used to receive education as a child, a temple known for its peacefulness. From Luangpu Sodh's autobiographical notes, he reflected to himself that he had been practicing meditation for many years and had still not understood the essential knowledge which the Buddha had taught. Thus, on the full-moon day in the tenth lunar month of 2459 B.E.(1916), he sat down in the main shrine hall of Wat Bote-bon, resolving not to waver in his practice of sitting meditation, whatever might disturb his single-mindedness. That same night he experienced in meditation what became known as the attainment of the Dhammakaya, which marked the start of Dhammakaya meditation as a tradition.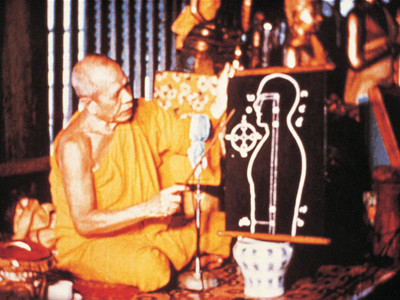 Luangpu Sodh devoted the rest of his life to teaching and furthering the depth of knowledge of Dhammakaya meditation, a meditation method which he also called "Vijja Dhammakaya", 'the direct knowledge of the Dhammakaya'. Temples in the tradition of Wat Paknam Bhasicharoen, together called the Dhammakaya Movement, believe that this method was the method the Buddha originally used to attain Enlightenment, but was lost five hundred years after the Buddha passed away.
Besides meditation, Luangpu Sodh promoted the study of Buddhism as well. In this combination he was one of the pioneers in Thai Buddhism. In 2482 B.E.(1939), Luangpu Sodh set up a Pali Institute at Wat Paknam. He had a great interest to introduce Dhammakaya meditation outside of Thailand. Luangpu Sodh was one of the first Thai preceptors to ordain people outside Thailand as Buddhist monks. He ordained the Englishman William Purfurst with the monastic name "Kapilavaḍḍho Bhikkhu" at Wat Paknam in 2497 B.E.(1954). Kapilavaddho returned to Britain to found the English Sangha Trust two years later. Former director of the trust Terry Shine described Kapilavaḍḍho as the "man who started and developed the founding of the first English Theravada Sangha in the Western world". He was the first Englishman to be ordained in Thailand, but disrobed in 2500 B.E.(1957).
In 2497 B.E.(1954), Luangpu Sodh made an announcement that he would die soon, and instructed his students to continue their duties without him, especially to propagate Dhammakaya meditation. Two years later, he was diagnosed with hypertension. Luangpu Sodh died in 2502 B.E.(1959). His body was not cremated, but embalmed, so that after his death people would still come and support Wat Paknam. In Wat Phra Dhammakaya a memorial hall was built in honor of Luangpu Sodh and in Wat Paknam, a charity foundation was started in his name.
Timeline
B.E.
C.E.
Age
Years in the Monkhood
Events
2427
1884
 
 
Born in Amphoe Songphinong in the province of Suphanburi.
2436
1893
9
 
Started school at Wat Songphinong.
2438
1895
11
 
Went to school at Wat Bangpla in Amphoe Banglane in the province of Nakhon Pathom.
2441
1898
14
 
Luang Pu's father died. Luang Pu became a rice merchant.
2446
1903
19
 
Made the resolute wish to ordain for life.
2449
1906
22
1
Entered the monkhood at Wat Songphinong.
2450
1907
23
2
Went to study the Dhamma at Wat Phra Chetuponvimonmunklaram in Bangkok.
2460
1917
33
12
 Attained Phra Dhammakaya at Wat Boadbon in Tambon Bangkuvieng, Amphoe Bang Kruai in the province of Nonthaburi.
2461
1918
34
13
Teaching Vijja Dhammakaya for the first time at Wat Bangpla in Amphoe Bang Len in the province of Nakhon Pathom.
2464
1921
37
16
Received the monastic title of Phrakrusamanadhamsamadan.
2474
1931
47
26
Established the Dhammakaya Workshop.
2480
1937
53
32
Khun Yai met Luang Pu at Wat Paknam.
2482
1939
55
34
World War II broke out.
2484
1941
57
36
Luang Pu's mother passed away.
2487
1944
60
39
Luang Por was born in the province of Sing Buri.
2488
1945
61
40
WWII ended.
2490
1947
63
42
Received the title of Preceptor.
2492
1949
65
44
Received the monastic title of Phrabhavanakosalathera.
2493
1950
66
45
Produced the first set of sacred gifts/started the construction of Phrapariyattidham School.
2494
1951
67
46
Produced the second set of sacred gifts.
2496
1953
69
48
Sent a monk to teach Vijja Dhammakaya in the U.K.
2498
1955
71
50
Received the monastic title of Phramonkolrajmuni.
2499
1956
72
51
Produced the third set of sacred gifts.
2500
1957
73
52
Received the monastic title of Phramonkolthepmuni, Cremated his mother's body.
2502
1959
75
54
Luang Pu passed away.