Monks and guests from over 40 countries joyously attended Magha Puja ceremony at Wat Phra Dhammakaya, offering alms to 3,000 monks and lighting 100,000 Magha lanterns in homage to the Lord Buddha.
Phra Sanitwong Wuttiwangso, Director of the Communications Department of Wat Phra Dhammakaya, said that February 11th, Magha Puja Day, is one of the most important and sacred days in Buddhism. He explained how the four auspicious occurrences called "Jaturong ka Sannibat" took place on this day during time of the Lord Buddha.
1) 1,250 monks convened at Veluvana Bamboo Grove without being summoned.
2) All of the monks were personally ordained by the Lord Buddha in what is known as 'Ehi Bikkhu Upasampata'.
3) They were Arahants possessing the six higher knowledge.
4) The event occurred on the full moon day of the 3rd lunar month.
The key principle the Lord Buddha gave to these 1,250 Arahants is called the Ovada Patimokkha.
This year Wat Phra Dhammakaya organized Magha Puja Day so that people can learn core Buddhist teachings and the practices of generosity, observation of the precepts, and meditation as a way to dedicate the merits from these acts to the late King Bhumibol Adulyadej and to pay homage to the Lord Buddha. The event was participated by an assembly of Buddhist organizations from over 40 countries, e.g. Germany, Italy, Myanmar, Laos, Cambodia, Sri Lanka, Nepal, Singapore, Indonesia, the Philippines, Australia, China, Taiwan, Mongolia, to name a few.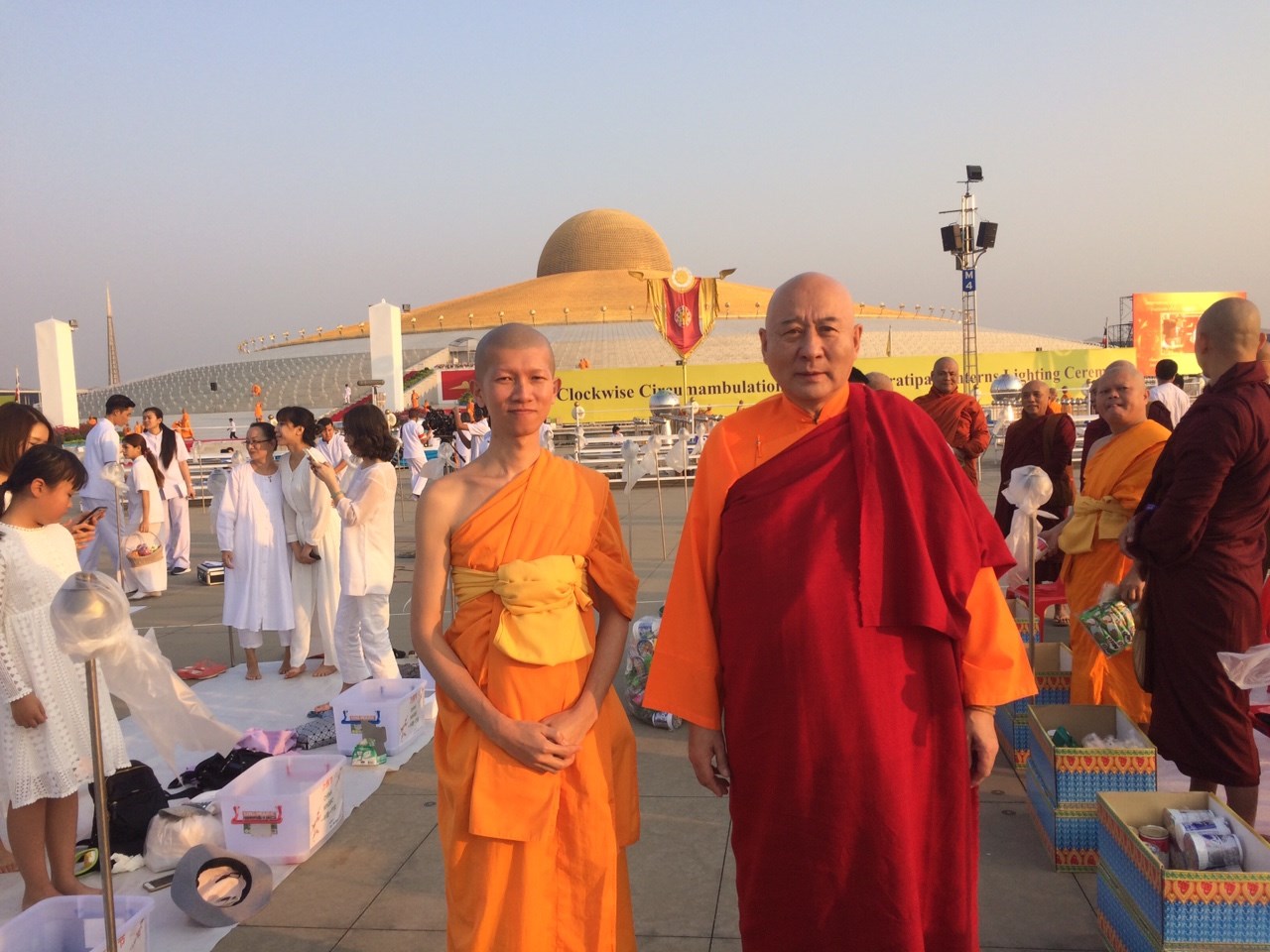 Leaders of Buddhist organizations include Most Ven. Dr. Bhaddanta Kumara Agga Maha Pandora–Rector of the State Pariyatti University (Yangon), Myanmar; Lama Damabajav– Abbot of Wat Dashichoiling Monastery, representing the presiding monk of Mongolia; and Lama Gangchen Rinpoche–President of the World Peace Gangchen Lama Foundation in Italy.
The morning activities began at 6:40 am with an alms offering ceremony to 3,000 monks at the Grand Meditation Square of the Maha Dhammakaya Cetiya, and chanting and meditation session at 9.30 am.  At 1 pm, there were ceremonies for the 35th Path of Progress Ethic Contest Awards (15 winners) and the 11th World Peace Ethics Contest (World-PEC) Awards (6 winners). The evening culminated with the lighting of 100,000 brilliant Magha lanterns in homage to the Lord Buddha at the Grand Meditation Square of the Maha Dhammakaya Cetiya.
"Throughout the 47 years since its establishment, Wat Phra Dhammakaya has faithfully adhered to the Ovada Patimokkha declared by the Lord Buddha:
1) Cease all evil
2) Do that which is good
3) Purify the mind
All the while, the temple has peacefully propagated Buddhism without interfering anyone, meticulously observing the monastic code of discipline, practicing moderation when it comes to food, living in tranquil and commendable locations, and practicing mindfulness through meditation." said Phra Sanitwong.