Alms Offering Ceremony// July 30, 2017—Jubilee Square, Woking, England
Wat Phra Dhammakaya London organized the Morning Alms Round for New Novice Celebration on Sunday July 30, 2017.  The novices ordained as part of the Summer Mass Novice Ordination 2017 Program.
This was the first ceremony held at Jubilee Square, which is in the heart of Woking city.  There were over 100 participants, both Thai and locals that took part in this event.  The Mayor of Woking City honored to preside over the ceremony and delivered the opening speech.  Then, the Monastic President gave a sermon about the importance of the Morning Alms Round.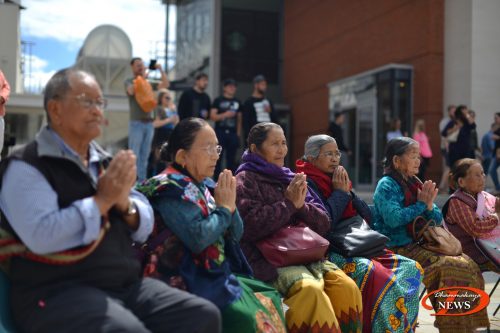 After that, they requested the 5 precepts and chanted one round of Dhammacakkappavattana Sutta.  Later, the venerable monk led them to meditate for 15 minutes to purify their action, speech and mind for the upcoming big merit.  The next ceremony was the ceremony of reciting the speech of offering meals to monks as Sangha Dana.  Kal. Sangiam Charington led saying in Pali and Kal. Anthony D' Amato led saying in English.  Then, the Monastic President gave the alms to the representative Ms. Cath Stamper.  The monks gave blessing in Pali and English.  Mr. Thianchai Chitwichiankul led the participants to say the speech of making wishes in Pali and Ms. Fay Kealey led them to say in English.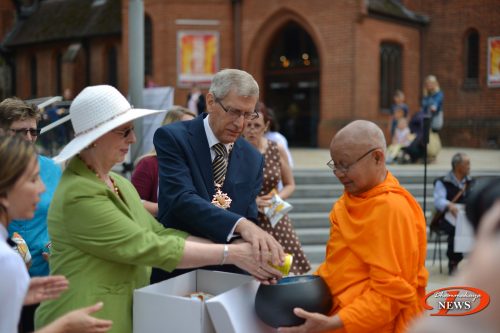 Later, the monks lined up to receive alms from the laypeople and Dr. Khanuengnij Garnett led them to say the speech of dedicating merit.  Finally, they took some historic group photos for recalling this big merit.