Meditation Session// Jan. 26, 2017— Silverado's Sierra Vista Memory Care Community, Azusa, CA
On Thursday January 26, 2017, three monks from DIMC, California visited the Silverado's Sierra Vista Memory Care Community in Azusa to chant for a group of elderly people who has Alzheimer, after an invitation from a daughter of the patients who want to give her mother an opportunity to listen the chanting as a blessing in the last period of their life.
The teaching monks started the meeting by leading the group of 10 elderly people and staffs to practice mediation. After the meditation, the teaching monks started chanting Dhammajak Kappavaddana Sutta. Then, the monks led the group to practice meditation again and then spread loving kindness to all living things.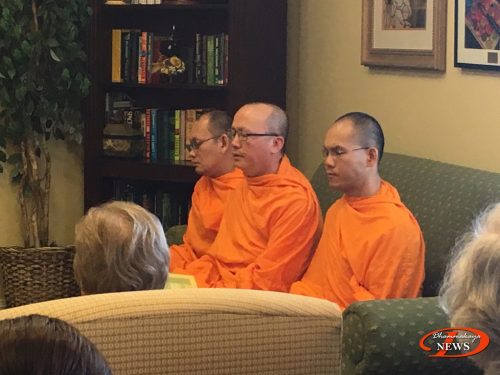 Both the elderly patients and staffs were impressed and happy to have the visit from the Buddhist monks to lead the chanting and the meditation. They can felt the merit they gain and thanked for the teaching monks and their staffs for this visit.