"Buddhist and Mediation"// October 2016— Wat Phra Dhammakaya London
The representatives of Wat Phra Dhammakaya London taught dharma about "Buddhist and Mediation" to 95 students of a school an all boys school, The John Lyon School. These students are 9th grade students around 14 – 15 years old.  The students got to learn about History of the Lord Buddha, The afterlife, The basic teaching of the Lord Buddha for laypeople, Dana (giving) / Sila (precepts) / Bhavana (meditation), Benefit of Meditation, Buddhist Ceremonies and The 5 precepts. There was also a questions & answers session for them to understand more about the teachings.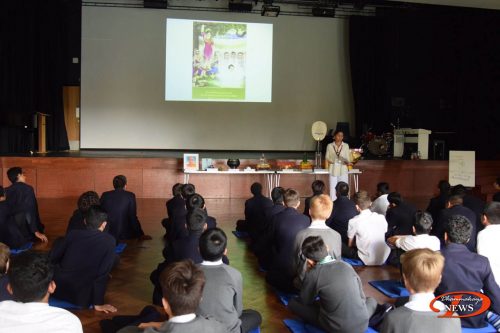 All topics interested the teachers and students very much.  After the dharma teaching, the students got to practice meditation. The students meditated well and had good meditation experiences.  They felt comfortable and agreed that meditation is a good thing.  Many of them were interested in Buddhism because they had some background in Buddhism.  Some were interested in the afterlife and they were able to answer Buddhist questions in all topics correctly.