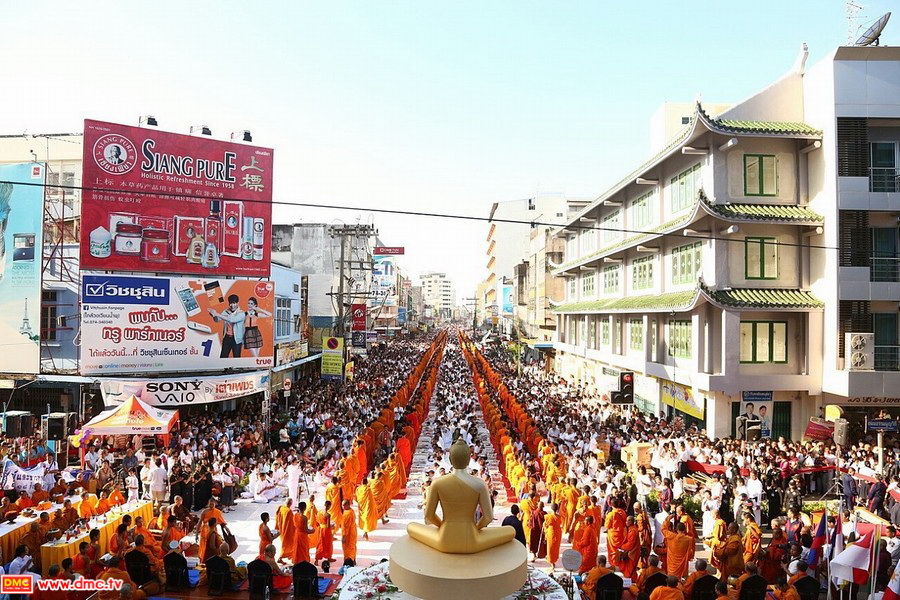 Great Offering in Southern Thailand: 15th Alms Offering to 10,000 International Monks in Hat Yai
The monastic community of Songkhla Province, in cooperation with Songkhla Provincial and Government Administration, Songkhla Administrative Organization, Hat Yai District and Municipality, World Fellowship of Buddhist Youth (WFBY), Thailand National Alliance, and government and private sectors will organize an alms-offering ceremony to 10,000 international monks as an homage to the Lord Buddha, aid the monastic community in the four southern provinces of Thailand, and preserve a Buddhist tradition. The event will take place on Sunday, 23rd August 2015 at Niphat-Uthit 3 Road, Hat Yai Municipality, Songkhla Province. The ceremony will have Most Venerable Phradhammawongsajarn–advisor to the Governor General of Ecclesiastical Region 18–as the presiding monk, and Lieutenant General Yodchai Yangyeun –Deputy Director of the Internal Security Operation Command Region 4–as the ceremony president.
This alms-offering ceremony is part of a larger project—2 Million Monks Alms Offering in 77 Provinces Throughout Thailand—which has the objective of reviving the alms-offering practice that thrived during the time of the Buddha. Dried food donated will be sent to the monastic community, soldiers, police, teachers, students and people residing in the four provinces in Southern Thailand. This is the 15th year that an alms-offering ceremony will be held in the heart of Hat Yai city in Songkhla. The event will help bolster morale of the people living in these four provinces and victims of natural disaster in various parts of Thailand and Southeast Asian countries as well. In addition to stimulating the national economy, businesses like Tesco Lotus and The Mall Group see the alms-offering ceremony as a great event of reciprocity-shoppers gain merit from offering items they've purchased and sellers receive money and merit as well.
Mr. Sakchai Peechapat, Senior Executive Vice President of TISCO Bank Public Company Limited, stated that the alms-offering event will not only revive morality but bring harmony to the country and have positive effects on the economy. The previous 10,000-monk alms-offering event received great support from the government, private sector, and Buddhists in Thailand and neighboring countries like Singapore and Malaysia who attended the ceremony. The huge attendance resulted in the complete booking of local hotels two months prior to the event and injected more than 150 million baht into the city. An alms-offering ceremony, in addition to being an event that fosters mental and economic balance, also instills harmony in the country through the practice of generosity. And Thailand is a Buddhist country that embraces the time-honored Buddhist practice of giving.
Schedule for Sunday, 23rd August 2015
06.15          – Presiding Monk and the monastic community arrive at the ceremony
06.20          – Pay homage to the Triple Gem
06.30          – Pledge to be Buddhist
07.00          – Ceremony to offer sanghadana and requisites, and make resolutions
07.30          – Presiding monk gives sermon and blessing
08.00          – Monastic community receives alms offering
08.30          – End of ceremony
Alms-Offerings Public Relations: 074-239-582, 081-651-9380, 081-896-3515, 081-598-6963, or 087-399-0333
Announcement
To this day over 4,500 tons of dried food and goods, totaling 224 million baht in value, have been delivered to the monastic community, soldiers, police, teachers, students and residents in the four southern provinces of Thailand. In addition, these items have been sent to aid victims of natural disasters in other parts of the world, such as the earthquake in Nepal, Cyclone Nargis in Myanmar, and Typhoon Haiyan in the Philippines.
For additional information please contact Mr. Nattakit Jirapeetanyarat of the Support and Propagation Division of the Communications Department at 090-972-3367.
Translated by Dhammakaya Translation Center