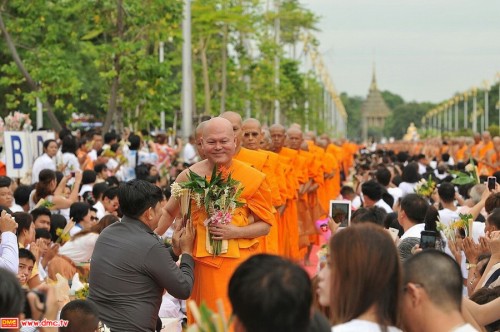 Alms Offering – flowers and dry food – to over 3,000 monks at Saraburi
The monastic Community of Saraburi Province in cooperation with Saraburi provincial, Wat Phra Phuttabat Ratchaworamahawihan, Saraburi Romyen Club, and public and private sectors have organized an Alms Offering Ceremony of flowers and dry food to over 3,000 monks on the duel carriage way in front of Phra Mondob (a spired square pavilion) of Wat Phra Phuttabat Ratchaworamahawihan, Saraburi Province on Wednesday, 29th July 2015. In this occasion, the Most Venerable Phradhammapidok, abbot of Wat Phra Phuttabat, Governor of the Ecclesiastical Province of Saraburi, Head of the Dhammayuttika Denominational Rigion 2, is kindly acting  as the presiding monk and Mr. Wichien Phuttiwinyu, the governor of Saraburi province, will be the presiding layman. All the alms received will be distributed to support monks, soldiers, police, teachers, students and the people of those four provinces in southern Thailand.  4,500 tons of dry food and the necessities have been distributed already in the past.
The ceremony of flower offering has long been a tradition in Wat Phra Phuttabat which takes the opportunity of Vassa (Buddhist Lent) annually to be the Flower Offering Ceremony. As in the era of Phra Chao Songdham, there was a discovery of the Lord Buddha's footprint at Wat Phra Phuttabat Ratchaworamahawihan which coincided with rainy season and rains retreat, during which period local flowers classified as Lesser Galanga and turmeric bloom. The locals saw these flowers, thus developed faith and offered them to monks. They called this flower 'Vassa Flowers' which comes from a time when the flowers bloom during the Vassa period.  The villagers have united to bring flowers to the monks in order to pay homage to the Buddha annually.
Schedule for Ceremony: Wednesday, 29th July 2015
06.15                     Presiding monk and monastic community arrive at the center of the ceremony
06.20                     Chanting in homage to the Triple Gem
06.30                     Vow to be Buddhists
06.50                     Ceremony to offer flowers and dry food
07.30                     The assembly of monks proceed to receive alms
08.30                     End of Ceremony
For more information, please call 081-398-5133 or 089-787-4462